Medals of Merit & Valor
Medals of Merit & Valor
Image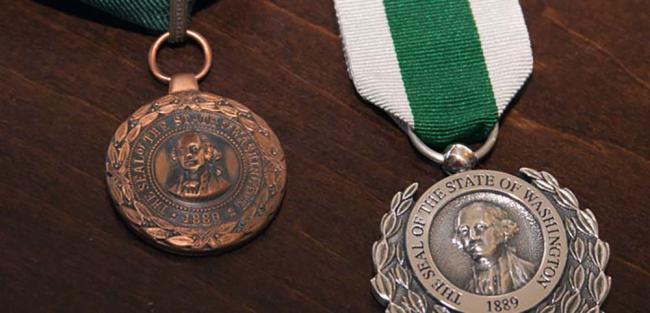 Medal of Merit
The Medal of Merit honors those who gave a lifetime of service to the people of Washington. Recipients have given selflessly of themselves for a better Washington through public service, literature, medicine, and advocacy.
Laws

Nomination

To nominate an individual for the Medal of Merit, please submit a nomination form and accompanying documents to:

Medal of Merit Committee
c/o Secretary of State
P.O. Box 40220
Olympia WA 98504-0220

[email protected]
(360) 902-4151

Previous Recipients of the Medal of Merit

Year
Recipients
1987

Warren G. Magnuson – Seattle (Senator)
Dorothy Bullit – Seattle (KING TV Founder and Philanthropist)
Orville A. Vogel – Pullman (U.S. Department of Agriculture)
Lester R. Sauvage M.D. – Seattle (Medical Pioneer)

1988

Edward Carlson – Seattle (Chair, Century 21, United Airlines)
Dr. William Hutchinson – Seattle (Medical Research)
Henry M. Jackson – Everett (Senator)

1989

Julia Butler Hanson – Cathlamet (Congresswoman)
Belding H. Scriber M.D. – Seattle (UW Medical School)
Charles Odegaard – Seattle (UW President)

1990

James E. Reed – Seattle (Law)
Francis Penrose Owens – Seattle (WSU Regent)

1995

Dr. Kathleen Ross - Prosser (Founder, Heritage College)
Michael Copass M.D. – Seattle (Harborview Medical School)

1998

Dr E. Donnall Thomas – Seattle (Transplant Pioneer – Nobel Laureate)
Grady Auvil – Orondo (Apple Orchardist and Pioneer)
Stanley O. McNaughton – Seattle (Business Leader)
Jacob Lawrence – Seattle (Painter)

2003

Thomas Foley – Spokane (former Speaker of the U.S. House of Representatives)
Leland H. Hartwell Ph.D. - Seattle (Nobel Prize-winning researcher)
Helmut "Brownie" Braunsteiner – Tacoma (veterans' advocate)
Ernest K. Gann – San Juan Island (former filmmaker and author)

2007

Dan Evans – Seattle (Former Governor and U.S. Senator)
Dale Chihuly – Seattle (Renowned Artist, Teacher and Patron)
Dr. Linda Buck, Ph.D. – Seattle (Nobel Laureate researcher)
Dr. Bonnie Dunbar, Ph.D. – Sunnyside (Shuttle Astronaut)

2009

Bill Gates Sr.- Seattle (Co-Chair, Bill & Melinda Gates Foundation)
Wilfred Woods - Wenatchee (Publisher, The Wenatchee World)
Emma Smith DeVoe - Tacoma (Suffragette)
May Arkwright Hutton - Spokane (Suffragette)

2015

Gretchen Shodde - Union (Activist / Founder of Harmony Hill Cancer Retreat Center)
Billy Frank, Jr. - South Puget Sound (Native American environmental leader and treaty rights activist)
Medal of Valor
The Medal of Valor recognizes individuals who have risked their lives or personal safety to save, or attempt to save, another person's life. The Medal of Valor cannot be awarded to police officers or fire fighters, or others whose actions are a result of their public duties as a first responder.
Laws

Nomination

To nominate an individual for the Medal of Valor, please submit a nomination form and accompanying documents to:

Medal of Valor Committee
c/o Secretary of State
P.O. Box 40220
Olympia WA 98504-0220

[email protected]
(360) 902-4151

Previous Recipients of the Medal of Valor

Year
Recipients
2006

Jim Swett, Skagit County
Greg Meinhold, Snohomish County
Travis Jackson, Clark County
Dennis Kinsey, Clark County

2007

Timothy Bourasaw, Snohomish County
Rick Bowers, Snohomish County
Edward Marsette, King County
Alana Schutt, Snohomish County

2015

Community of Arlington
Community of Darrington
Community of Oso
The Sauk-Suiattle Tribe