2023 General Election Voters' Guide
Node
2023 General Election Voters' Guide
Select a format to learn more about the candidates and measures on your ballot. 
Provides an overview of all state measures and information provided by statewide candidates. Use a mobile device or Chrome/Firefox browser to load this dynamic searchable guide. 
Image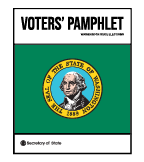 Choose from 21 Editions, including Spanish, Chinese, and Vietnamese translations.
Your precinct determines which positions you may vote for, so you may see candidates in the complete county guide that do not appear on your ballot. Your personalized voters' guide at VoteWA.gov and mailed ballot will show which candidates you're eligible to vote for based on your precinct.
Image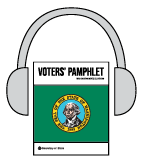 Listen to recordings from the printed Voters' Pamphlet.
Audio for the Voters' Pamphlet Audio Guide is created by the Washington Talking Book & Braille Library. WTBBL provides library services state-wide to any Washington resident unable to read standard print material due to blindness, visual impairment, deaf-blindness, physical disability (cannot hold a book or turn pages), or reading disability. If you are interested in receiving their free library services, please visit their website here.
Also known as a plain text file, view or download data from the printed Voters' Pamphlet. 
View a voters' guide customized to the measures and races on your ballot.