I Submitted My Filing - Now What?
Node
I Submitted My Filing - Now What?
Our process
Because filings are legally binding documents, they must only be submitted via our online system or by paper (limited by filing type) in the mail. Our office must input all filings received in the mail same day. We only receive mail Monday-Friday during regular business hours, excluding holidays. Our office is not liable for lost or delayed mail, so please plan accordingly. Filings are worked in the order received. Expedited orders are in a separate queue that takes priority over all other filings.

Submitted VS Fulfilled
 
Submitted
When a customer provides documents, they have submitted a filing to us and once inputted into the system, they are in the "Pending OSOS Review" stage of their filing. Simply submitting the document will not change the business's status or information until it is fulfilled.
*You may receive notifications or status changes during this period because our office still has not reviewed and/or acted on your submission. However, submissions provided before expiration are honored, and the status will be changed upon completion.
Fulfilled
Once our office has ensured the documents provided by the customer meet the statutory requirements, they are fulfilled. Our staff reviews all information provided, either sends the filing back for corrections or fulfills the record by placing it on public record. Our office stamps all fulfilled records with FILED on the top right and an embossment on the bottom right.
How do I know you received my document?
If you submit your document through our filing system, you will receive an email confirming your submission, like the example below.
Image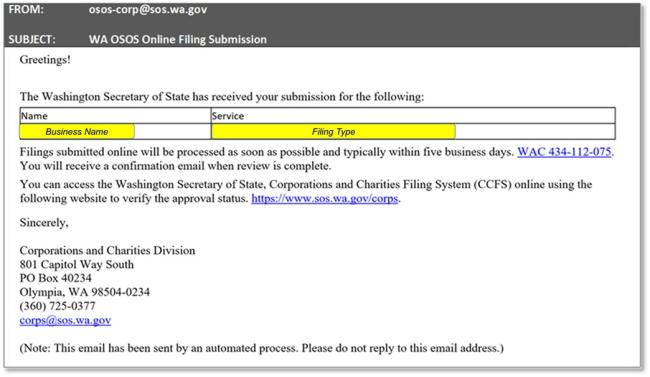 It is more difficult to determine if you mailed a paper form. Here are a few methods.
* Please note our office uses consolidated mail service, which means we do not receive mail directly to our office. Mail is sorted for various Secretary of State divisions before being delivered to us, which may cause additional delays.
Postal tracking
If you mailed your request with a tracking number, please check the status of that delivery using the appropriate carrier's website and/or customer service.
Payment by check
If you mailed your request with a check payment and see the check has been cleared through your banking institution, this is an indication our office has received your submission. If the payment has not been cleared, the submission may have been sent back to you because the check and/or request was not acceptable per our initial review. 
When corrections are needed
After submitting a filing, make sure to monitor your postal and electronic mail. If a submission is missing required information and/or payment, or is otherwise not acceptable but can be corrected, this office will generate a correction letter. This letter identifies the information and/or actions needed to complete the submission.
This letter is sent electronically if an email is provided.
Image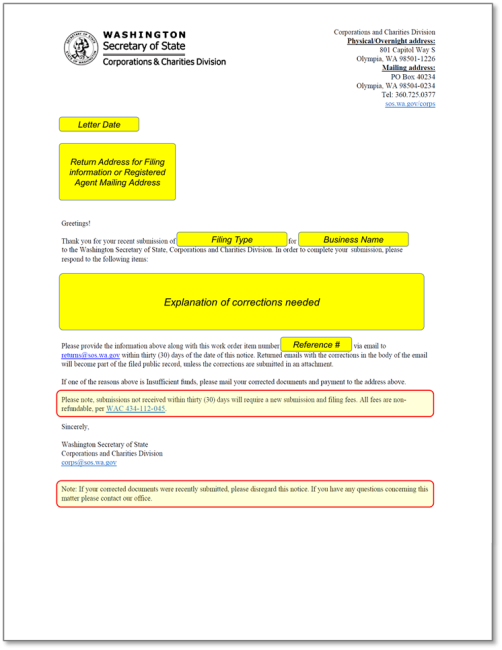 Letter Date:
This is the date the letter was emailed and/or mailed. This date starts the 30-day clock.
Return Address for Filing:
Most online and paper forms include an optional section titled "Return Address for this Filing." If this section is completed, the correction letter and confirmation letter will be emailed and/or mailed to the email/mailing addresses provided.
If a cover letter is provided, contact information from the cover letter may be used to complete fields in the "Return Address for this Filing" section.
An additional confirmation letter will also be sent the Registered Agent's email and/or mailing address upon completion.
Explanation of corrections needed:
This section will identify the information and/or payment needed to complete the submission. If you have questions about a specific section, please review the filing instructions for the appropriate form for details and context.
Work Order Number:
This is the number assigned to this filing/submission. OSOS staff uses this to identify the specific filing and match up pending submissions with submitted corrections.
Corrections format:
Corrections sent by email with the necessary information in the body of the email will become part of the filed public record unless the revisions are submitted in an attachment.
If payment is required as part of the correction, send all required items together by mail. Sending incomplete corrections by mail and/or email will likely result in processing delays and additional correction notices.
30-Day Clock:
The customer has 30 days from the letter to provide corrections. New fees will be required if corrections are not received within this timeline.