Nat & Thelma Jackson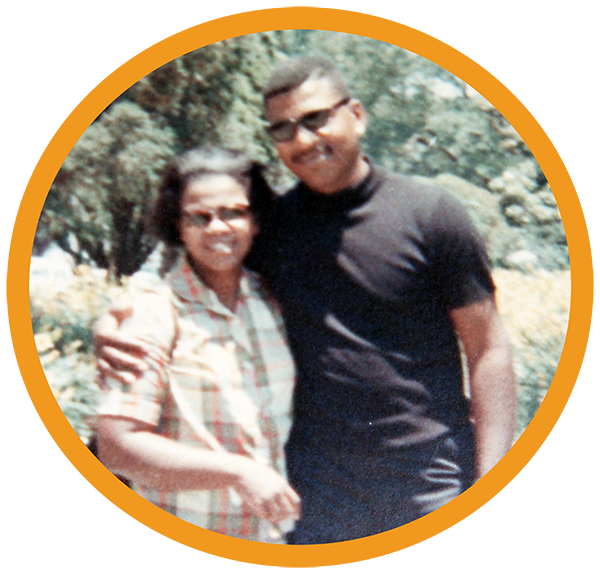 Nat and Thelma Jackson as newlyweds in 1966. Jackson Collection
Nat and Thelma Jackson met at Southern University in Baton Rouge, Louisiana, at the peak of the Civil Rights Movement. The Rev. Dr. Martin Luther King Jr. was their spiritual lodestar.

MLK memorial button John Hughes Collection
They arrived in the Tri-Cities in 1968 and soon became keyplayers in the push for equal opportunity. Nat headed the East Pasco Self-Help Cooperative. Thelma was a biochemist for Battelle Northwest at Richland at a time when Hanford industries had few black professionals.
Nat became an aide to Governor Dan Evans and president of the Thurston County Urban League. Thelma earned a Ph.D. and emerged as an inspirational educator, Evergreen State College trustee and community activist.
The formidable pair from Lacey campaigned tirelessly for hate-crime legislation. A half century later, they are still in the trenches.
And Nat, at 75, is a nationally recognized wellness advocate who has set jump-rope speed records.
Read more about Nat & Thelma Jackson
Click/tap images for larger view
Top: Nat with his friend and mentor, Arthur Fletcher, in the 1990s. Jackson Collection
Bottom Left: Thelma with daughters Debrena (left) and Ericka at Lydia Hawk Elementary School in the North Thurston School District in the 1970s. Lacey Museum, The Daily Olympian Collection
Bottom Right: Nat and Thelma today. John Hughes photo