Environment
Janet McCloud
Janet McCloud, a descendant of Chief Seattle, helped organize "fish-ins" on the Nisqually and Puyallup rivers in the 1960s as Northwest tribes asserted their treaty rights. When she was arrested for defying state game wardens, McCloud emerged from jail more determined than ever. Some called her "the Rosa Parks of the American Indian Movement."
McCloud and her husband, a Nisqually tribal fisherman, were founding members of the Survival of American Indian Association. She cranked out its newsletter on a second-hand mimeograph machine. One day she said she was gazing at Mount Rainier, in all its white-robed majesty, when she "saw all the faces of the great chiefs" and heard a voice that sounded like Crazy Horse telling her not to be afraid. McCloud began "spreading the message of native spirituality and human rights worldwide." The resilient activist who became known as "Yet-Si-Blue" - "the woman who talks" - died in 2003 at 69.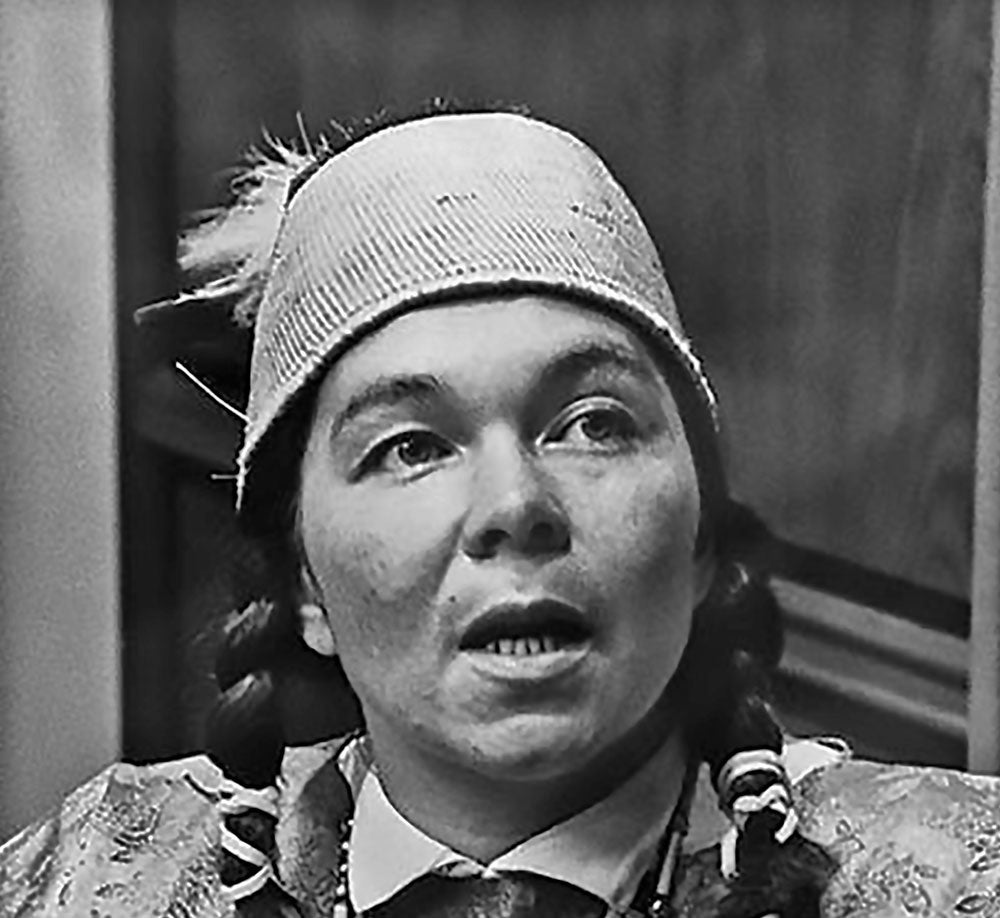 Click/tap images for larger view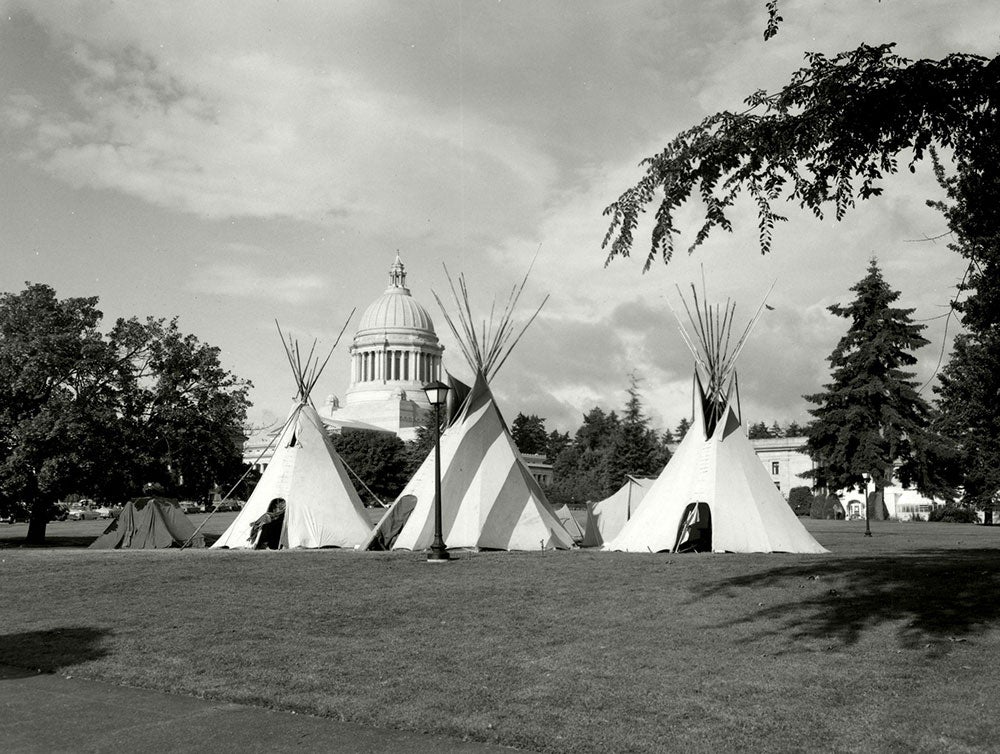 Janet McCloud led a group of demonstrators in June 1968 to protest the restriction of Indian fishing rights and the jailing of Dick Gregory, civil rights activist. Washington State Patrol Collection, Washington State Archives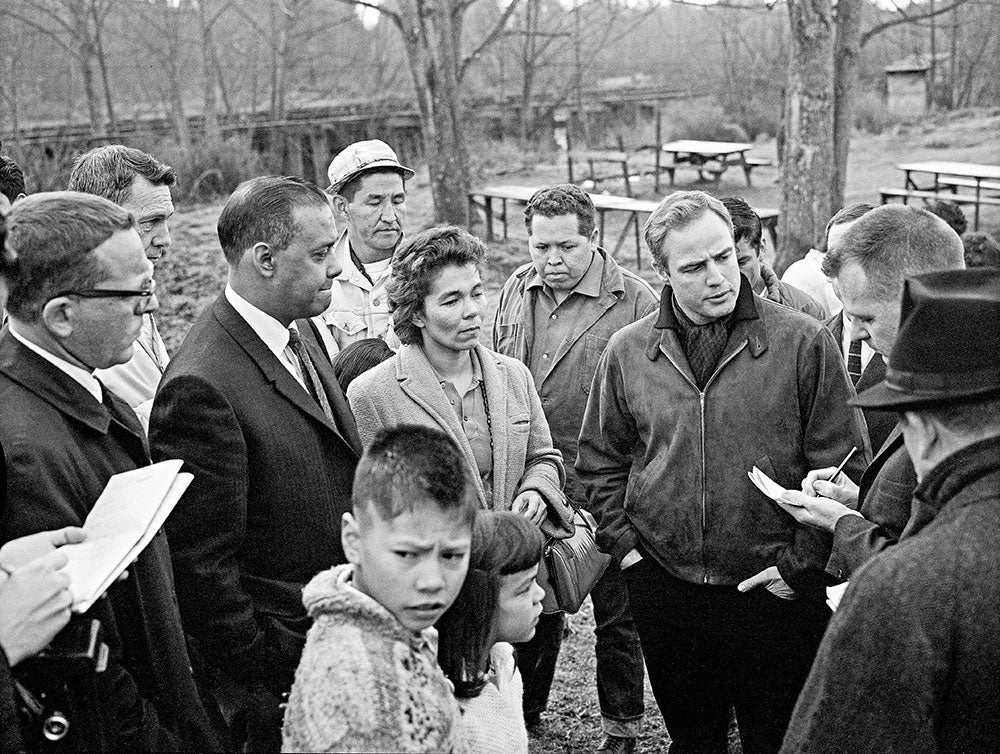 Janet McCloud and Tacoma NAACP attorney Jack Tanner (at her right), look on as Marlon Brando is interviewed by reporters during a fishing rights event on the Puyallup Reservation in 1964. Seattle P-I Collection/MOHAI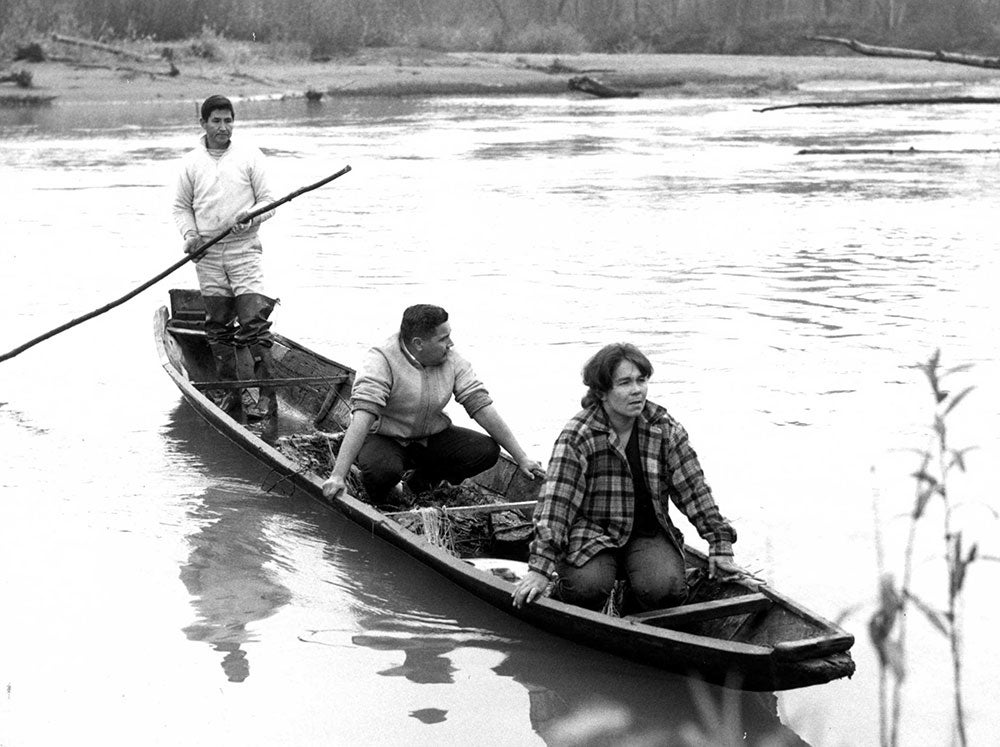 Janet McCloud, Al Bridges (standing) and Jack McCloud on the Nisqually during a fish-in. State Game Department/Washington State Archives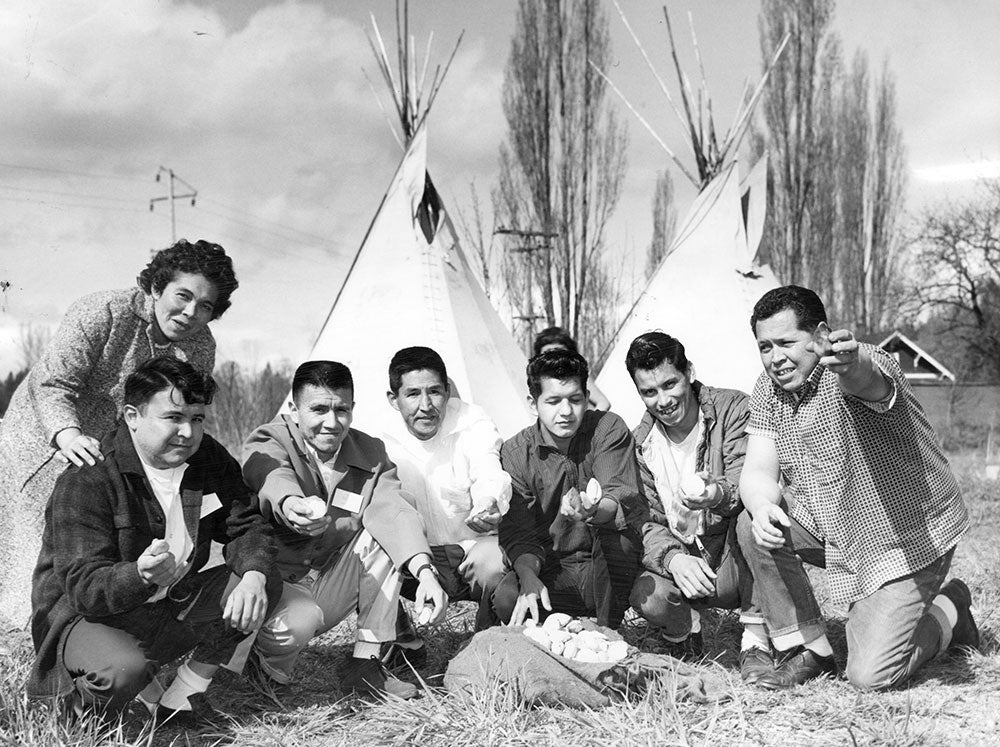 Janet McCloud and her husband Don, both at left, with other Nisqually Indians who went to jail in 1964 to protest state fishing policies. The others, from left, are: Billy Frank Jr., Al Bridges, Herman Johns, Nugent Kautz and Jack McCloud. Washington State Digital Archives
Fawn Sharp
Fawn Sharp, the five-term president of the Quinault Indian Nation, believes there's "irrefutable" evidence that global warming threatens "the planet our Creator gave us." Her people are fighting for their livelihoods, Sharp says—maybe their very lives. The glaciers that feed the rivers and support the salmon integral to the Quinault culture and economy are disappearing. Forests on tribal lands are changing. Tidal surge, storms and tsunamis threaten Taholah, the tribal village where the Quinault River flows into the Pacific. The Tribal Council needs to move 700 people to higher ground.
Sharp, an attorney, reveres the tribal elders who won the fishing rights wars in the 1970s. Now she vows to sue the fossil fuel industry for the collapse of tribal fisheries. She cites Scientific American's report that the industry was aware of climate change as far back as 1977, yet it obfuscated the risks. "We're going to take Big Oil down," she declares.
Read more about Fawn Sharp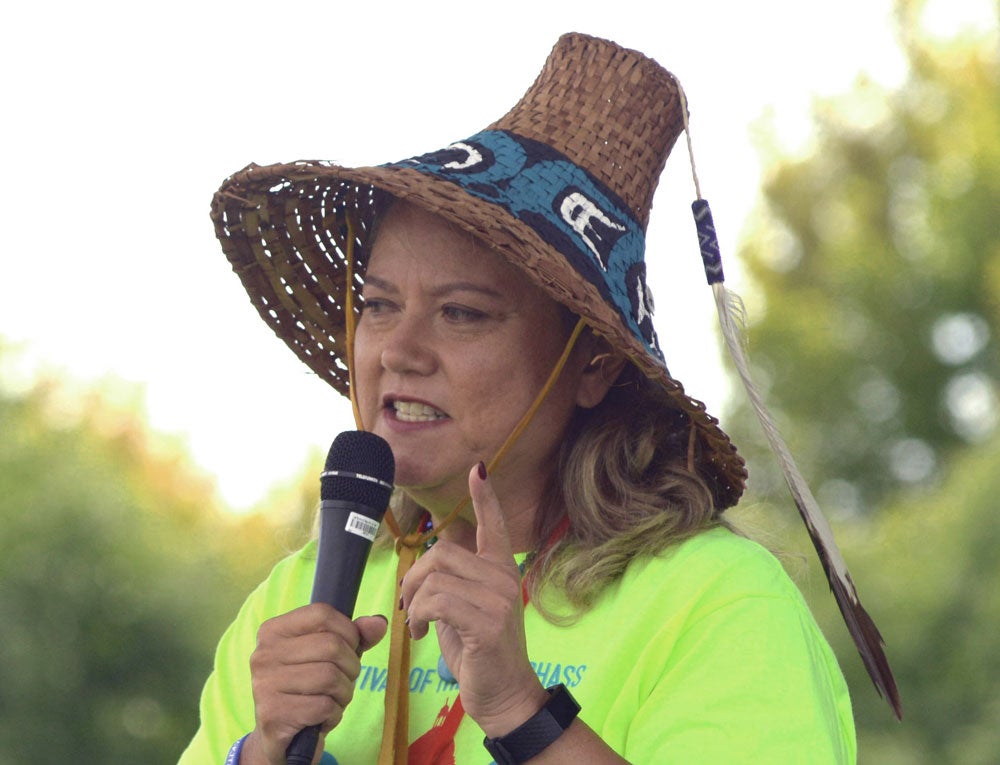 Click/tap images for larger view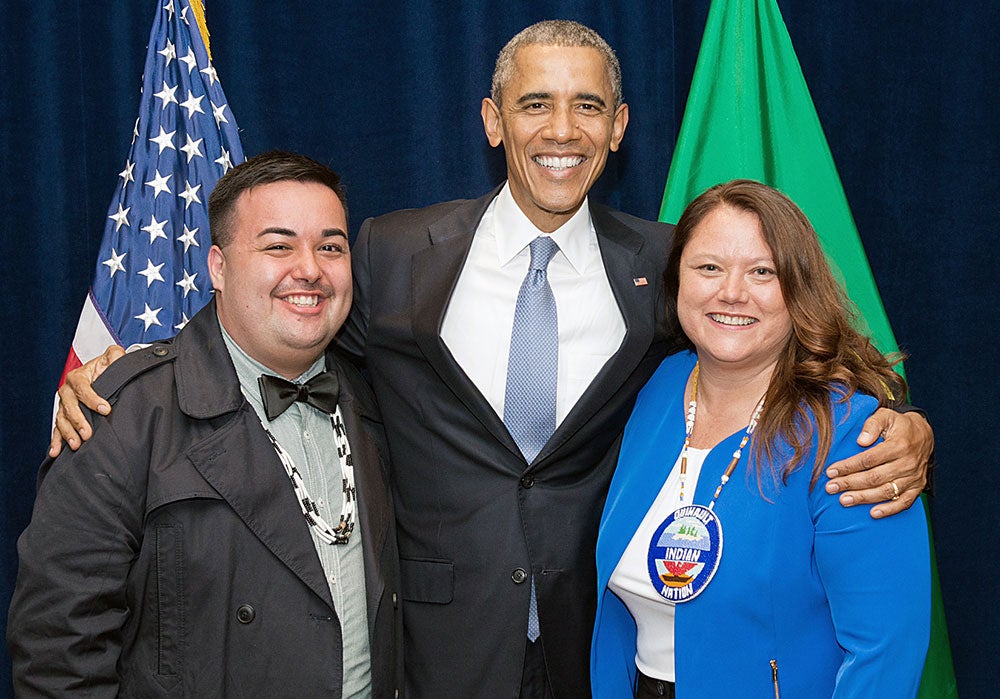 At the White House with President Obama. Fawn Sharp Collection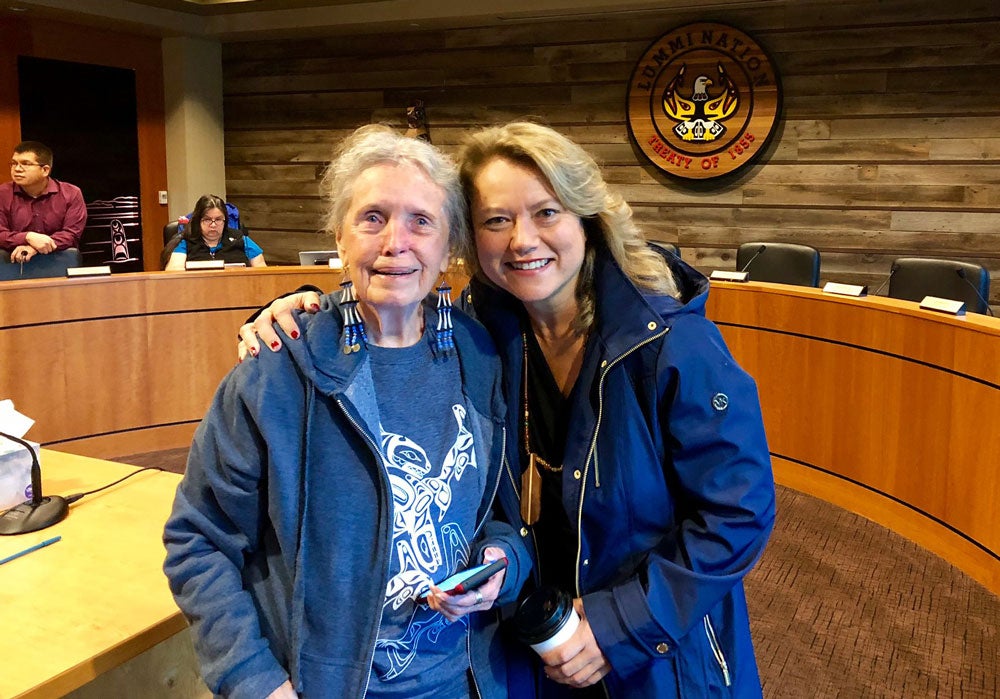 Sharp with legendary tribal activist Ramona Bennett of the Puyallup Tribe in 2018. They helped launch a political action committee to advance public policies that protect the environment and human rights. First American Project