Isaac I. Stevens : "In memoriam"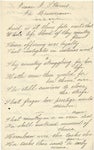 Title

Isaac I. Stevens : "In memoriam", 1862

Author:

Watson, C. L.

Contents:

This poem was found in a bible that was once owned by Hazard Stevens, the son of Gov. Isaac I. Stevens. Hazard presented the bible to his sister as a wedding gift. The poem memorializes the late Gov. Stevens after his death in the Civil War.

Publication Information:
Manuscript, Roxbury, 1862
State Library Catalog Information
Notes

For handwritten manuscripts, the search function will not work. Please use the table of contents instead.

View
*DJVU | PDF

*Plugin Required

Table of Contents
---
---
Table of Contents
Note: DJVU files are much smaller in size and will download and display faster than the PDF versions.
p. 1 Stanzas 1-3 - DJVU | PDF
p. 2 Stanzas 4-6 - DJVU | PDF
p. 3 Stanza 6 (cont.) - DJVU | PDF

---
Plug-in Required
DJVU Plugin or Adobe Acrobat Reader (PDF) Required
To view the publication images you will need either Lizardtech's DJVU plugin or Adobe's Acrobat Reader, both which are free. Click the icons below for downloading instructions.