Koo-koo-sint, the Star Man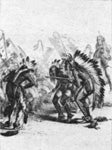 Title

Koo-koo-sint, the Star Man : a chronicle of David Thompson

Author:

Flandrau, Grace

Contents:

A short chronicle of David Thompson, an English-Canadian mapmaker, explorer, and fur trader with the Hudson's Bay Company. Thompson gained the name Koo-koo-sint, or "The Star Man," from Indians due to his daily astronomical observations.

Publication Information:
[St. Paul?, Minn. : Great Northern Railway, 192-]
State Library Catalog Information
Notes
View
*DJVU | PDF

*Plugin Required

Table of Contents
PDF Notice
- If you experience difficulty viewing the PDF versions of the publication please make sure your PDF viewer and or browser is up-to-date. Internet Explorer users may wish to upgrade to the latest version of the browser or use an alternative, such as
Google Chrome
or
Firefox
.
---
---
Table of Contents
Note: DJVU files are much smaller in size and will download and display faster than the PDF versions.
Title Page - DJVU | PDF
Map of David Thompson's Journeys - DJVU | PDF

---
Plugin Required
To view the images you will need either a DJVU plugin or Adobe's Acrobat Reader, both which are free.