Origin of the Constitution of the State of Washington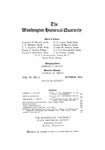 Title

Origin of the Constitution of the State of Washington

Author:

Knapp, Lebbeus J.

Contents:

"Prepared as a thesis for the Master of Arts degree in the University of Washington. The debates and proceedings of the convention were never published. Mr. Knapp gleaned information from survivors of the convention and newspapers of that day."

Publication Information:
Seattle, Wash. : Washington University State Historical Society, [1913]
State Library Catalog Information
Notes
View
*DJVU | PDF

*Plugin Required

Table of Contents
PDF Notice
- If you experience difficulty viewing the PDF versions of the publication please make sure your PDF viewer and or browser is up-to-date. Internet Explorer users may wish to upgrade to the latest version of the browser or use an alternative, such as
Google Chrome
or
Firefox
.
---
---
Table of Contents
Note: DJVU files are much smaller in size and will download and display faster than the PDF versions.
Contents Page - DJVU | PDF
Counties, Cities, and Towns - DJVU | PDF
Public Lands - DJVU | PDF
Legislature, Scope of the Subject - DJVU | PDF
Shall the Constitution Recognize Deity? - DJVU | PDF
Township and County Subsidies - DJVU | PDF
Bibliography - DJVU | PDF
Notes on the Constitutional Convention - DJVU | PDF
The Constitution of the State and its Effects upon Public Interests - DJVU | PDF

---
Plugin Required
To view the images you will need either a DJVU plugin or Adobe's Acrobat Reader, both which are free.