Alphabetical vocabulary of the Chinook language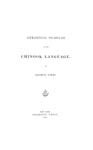 Title

Alphabetical vocabulary of the Chinook language

Author:

Gibbs, George, 1815-1873

Contents:

Published with the support of the Smithsonian Institution, this work includes the orthography, a bibliography, vocabulary, and local nomenclature of the Chinook language.

Publication Information:
New York : Cramoisy Press, 1863
State Library Catalog Information
Notes
View
*DJVU | PDF

*Plugin Required

Table of Contents
PDF Notice
- If you experience difficulty viewing the PDF versions of the publication please make sure your PDF viewer and or browser is up-to-date. Internet Explorer users may wish to upgrade to the latest version of the browser or use an alternative, such as
Google Chrome
or
Firefox
.
---
---
Table of Contents
Note: DJVU files are much smaller in size and will download and display faster than the PDF versions.
Title Page - DJVU | PDF
Preface - DJVU | PDF
Orthography - DJVU | PDF
Bibliography - DJVU | PDF
Vocabulary - DJVU | PDF
Local Nomenclature - DJVU | PDF

---
Plugin Required
To view the images you will need either a DJVU plugin or Adobe's Acrobat Reader, both which are free. Click the icons below for downloading instructions.