Alphabetical vocabulary of the Chinook language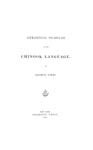 Title

Alphabetical vocabulary of the Chinook language

Author:

Gibbs, George, 1815-1873

Contents:

Published with the support of the Smithsonian Institution, this work includes the orthography, a bibliography, vocabulary, and local nomenclature of the Chinook language.

Publication Information:
New York : Cramoisy Press, 1863
State Library Catalog Information
Notes
View
*DJVU | PDF

*Plugin Required

Table of Contents
---
---
Table of Contents
Note: DJVU files are much smaller in size and will download and display faster than the PDF versions.
Title Page - DJVU | PDF
Preface - DJVU | PDF
Orthography - DJVU | PDF
Bibliography - DJVU | PDF
Vocabulary - DJVU | PDF
Local Nomenclature - DJVU | PDF

---
Plug-in Required
DJVU Plugin or Adobe Acrobat Reader (PDF) Required
To view the publication images you will need either Lizardtech's DJVU plugin or Adobe's Acrobat Reader, both which are free. Click the icons below for downloading instructions.