Narrative of a tour to Oregon, 1841-2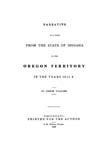 Title

Narrative of a tour from the state of Indiana to the Oregon Territory in the years 1841-2

Author:

Williams, Joseph

Contents:

Reflections of preacher and missionary Joseph Williams on his journey from Indiana to the Oregon Territory.

Publication Information:
New York : Edward Eberstadt ; Manchester, N.H. : Standard Book Co., 1921
State Library Catalog Information
Notes
View
*DJVU | PDF

*Plugin Required

Table of Contents
PDF Notice
- If you experience difficulty viewing the PDF versions of the publication please make sure your PDF viewer and or browser is up-to-date. Internet Explorer users may wish to upgrade to the latest version of the browser or use an alternative, such as
Google Chrome
or
Firefox
.
---
---
Table of Contents
Note: DJVU files are much smaller in size and will download and display faster than the PDF versions.
Title Page - DJVU | PDF
Introduction - DJVU | PDF
Preface - DJVU | PDF
Tour to Oregon Territory - DJVU | PDF
Poem – The Rocky Mountains - DJVU | PDF

---
Plugin Required
To view the images you will need either a DJVU plugin or Adobe's Acrobat Reader, both which are free.