Across the plains in 1853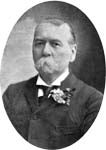 Title

Across the plains in 1853

Author:

Ward, D. B., 1838-

Contents:

Written 58 years after the fact, this work recounts D.B. Ward's journey to the Willamette Valley from Arkansas via Bent's Fort and the Upper Platte at the age of 15.

Publication Information:
Seattle : Ward, [1911]
State Library Catalog Information
Notes
View
*DJVU | PDF

*Plugin Required

Table of Contents
PDF Notice
- If you experience difficulty viewing the PDF versions of the publication please make sure your PDF viewer and or browser is up-to-date. Internet Explorer users may wish to upgrade to the latest version of the browser or use an alternative, such as
Google Chrome
or
Firefox
.
---
---
Table of Contents
Note: DJVU files are much smaller in size and will download and display faster than the PDF versions.
Cover - DJVU | PDF
Portrait of D.B. Ward - DJVU | PDF
Preface - DJVU | PDF
Across the Plains in 1853 - DJVU | PDF

---
Plugin Required
To view the images you will need either a DJVU plugin or Adobe's Acrobat Reader, both which are free.