List of donation land claims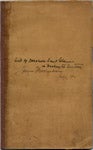 Title

List of donation land claims in Washington Territory, July 1887

Author:

Wickersham, James, 1857-1939 (transcriber)

Contents:

Donation Land Law, passed Sept. 27, 1850 by U.S. Congress, guaranteed settlers up to one square mile of land in Oregon Territory. Washington Territory was divided from Oregon in 1853. The claims listed in this manuscript are dated between 1852 and 1855. This numerical list of claimed lot numbers has details including the claimant's name; nearest post office; dates of settlement, proof and notice; location and size of claim.

Publication Information:
[maunuscript]
State Library Catalog Information
Notes

For handwritten manuscripts, the search function will not work. Please use the table of contents instead. For this title, a searchable transcription is available from the Washington State Digital Archives: http://www.digitalarchives.wa.gov/TitleInfo.aspx?TitleID=1&RecordSeries=8

View
*DJVU | PDF

*Plugin Required

Table of Contents
PDF Notice
- If you experience difficulty viewing the PDF versions of the publication please make sure your PDF viewer and or browser is up-to-date. Internet Explorer users may wish to upgrade to the latest version of the browser or use an alternative, such as
Google Chrome
or
Firefox
.
---
---
Table of Contents
Note: DJVU files are much smaller in size and will download and display faster than the PDF versions.
Cover - DJVU | PDF
Index A – E - DJVU | PDF
List of Land Claims - DJVU | PDF
Index F – Z - DJVU | PDF

---
Plugin Required
To view the images you will need either a DJVU plugin or Adobe's Acrobat Reader, both which are free. Click the icons below for downloading instructions.