Ritzville Area
A History of Adams County and Ritzville
Territorial Towns
Daniel Buchanan
Early Cattlemen
"Bell Dance"
This information is provided by Nancy Burke and Sally Powers of the Dr. Frank R. Burrough's Home and the Depot Ritzville.
A History of Adams County and Ritzville
In 1883 the Territorial Legislature formed Adams County out of Whitman County. At the time, only 150 people lived in Adams County. The Articles of Incorporation were approved by Governor William A. Newell on November 28, 1883, and the first commissioners were James G. Bennett, George Sinclair Jr., and John L. Johnson. They met on December 1883 and unanimously voted for Samuel A. Wells to be County Auditor.
The taxable property of Adams County in 1884 was about $167,000 and the operating expenses of the county were $1,169. A general election was held on November 4, 1884 to decide the location of the county seat and Ritzville received a majority of the votes. The commissioner then voted and declared Ritzville to be Adam County's permanent county seat.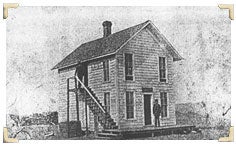 The first courthouse was purchased in 1885 and cost $426. Three years later a jail was built, costing $3,700. During the October 1889 elections, the electors for Adams County voted on the state constitution, women's suffrage and prohibition: State Constitution, 203 voted for and 171 voted against; women's suffrage, 136 for and 233 against, and prohibition, 157 for and 210 against.
Ritzville, the county seat of Adams County, was settled in 1878 by Philip Ritz. He was the first settler in the area, acquiring land north of the current town. In the 1880s the Northern Pacific Railroad Company built a railroad station near his property and asked Ritz to name the station; Ritz promptly called it "Ritzville." The tracks and the depot were completed in 1883.
1882 is recognized as the year of the land rush in Ritzville. Seventeen Russian-German families arrived by wagon train from Nebraska. The early farmers were attracted by the farming opportunities in the area. One of the early farmers was Daniel Buchanan, a production.
Another industry that attracted settlers to the area was cattle ranching. Cattle grazed on range land and were driven to market as far east as Virginia City, Montana. Cow Creek stockmen put up hay and raised gardens and cattle. One rancher wrote, "This vast territory is one grand stock range." Annually, a round-up of thousands of horses and cattle was conducted.
As more settlers moved into the area, Ritzville outgrew the three buildings built in 1881. William McKay built the first home and hotel with eight rooms in 1881; he also built the first store. A post office was established in 1883 when Mr. Johnson of Walla Walla purchased McKay's store; Johnson also served as the first postmaster for many years. The Northern Pacific Depot, which included a large dining room, was the town's social center. School was held in a wood frame building during this time and a larger school was built in 1885.
The first 4th of July celebration was held in 1884. The program consisted of a choir that "sang the national airs with the spirit of 1876," speeches, and tables loaded with good food. Marshal Schultz kept order so "nothing unpleasant occurred."
By 1887 Ritzville had grown to three general merchandise stores, one drug store, one saloon, two blacksmith shops, two lumber yards, two livery stables, one harness shop, two hotels, a two-story school and one church. The church was the First Congregational Church, first organized in 1881 when its members met in the railroad dept; in 1885 a new church was built. The Methodist Episcopal Church was organized in November 1888, and in April 1889, ground was broken for a new church.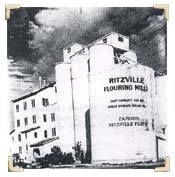 The Ritzville Milling Co., another business in Ritzville, was owned and operated by George Benninghoff from 1880s onward. This developing town also published the first paper in Adams County in 1886. An edition was issued every Wednesday and cost $1.50.
The Depot Railroad Museum in Ritzville has Washington Territorial information on early schools, wheat farming, commercial and railroading." Visit www.ritzcom.net/museums for further information. Sources used include Roy Gilson; by , 1983; , published 1902.

Territorial Towns and Settlements

Ritzville—settled in 1878 by Philip Ritz. He named the nearby railroad station "Ritzville" and the town took the name.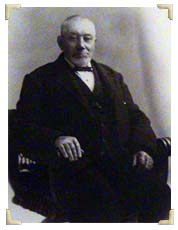 Daniel Buchanan

Daniel Buchanan was also a framer of the Washington State Constitution, and his descendents still farm in Ritzville.

Early Cattlemen

Early stockmen were worried about Indian attacks. One Crab Creek settler told his friends about an amusing incident involving the threat of an imaginary Indian attack that happened one summer afternoon. While putting up hay, the husband decided he needed a scythe. Noticing his wife near the doorway, he yelled to her, "Bring a scythe." She did not hear him well and imagined her husband was warning of approaching Indians. Frightened, she rushed into the cabin, grabbed her children and her bread (wrapping them in the same blanket), grabbed the rifle and headed towards the astonished rancher. Her husband then reasoned that his wife had spotted Indians. He ran to harness the team of horses so they could go to Fort Walla Walla for safety. Fortunately, explanations were made before they started on an unnecessary journey.

"Bell Dance"

When the larger school was built in 1885, it cost $1,200 and funds were not available for a bell. A "bell dance" was held in November when "a cosmopolitan crowd was in attendance at the new school house. The affair was socially and financially a great success." The bell was purchased in 1886 and is still in use at the Gilson Gym in Ritzville.