Franklin County
A History of Franklin County
Territorial Towns
Ainsworth
This information and photographs were provided courtesy of Mary Warring, former President of the Ferry County Historical Society.
A History of Franklin County
Railroad expansion in the Pacific Northwest created Ainsworth, located at the confluence of the Snake and Columbia Rivers, and the first town in Franklin County. Settled in 1879 as a depot for construction supplies and equipment, the town was named after J.C. Ainsworth, President of the Oregon Steam Navigation Company. Ainsworth's company had a monopoly on all shipping on the Columbia River they held for 20 years.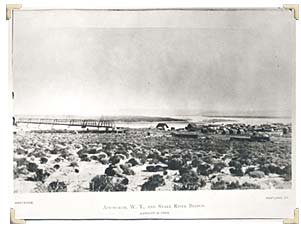 During its heyday, Ainsworth was a rough-and-tough town which fluctuated in population from 300 to 1500 persons and included a great many Chinese laborers among the railroad construction workers. Ainsworth soon garnered a reputation as a "wild-and-wicked spot of sin" because of the people railroad construction attracted. A noted surveyor, Lt. Thomas W. Symons, described Ainsworth as "one of the most uncomfortable, abominable places in America to live in." Saloons, gambling emporiums, opium dens and houses of ill-repute were all prominent businesses accompanied by their share of crime, violence and lawlessness.
Yet in spite of Ainsworth's reputation, a respectable and responsible populace called the humble town "home." Residences had few conveniences and were furnished with nothing more than simple homemade furniture. Though windmills and wells were rare, Ainsworth was home to butcher shops, dairy, barbers, millinery, general merchandise stores, shoemakers, a dressmaking store, a notion & variety store and a Chinese laundry. Due to its location and railroad and river service Ainsworth was one of the busiest places in the Territory, serving as a transfer point for a variety of goods such as wheat, cattle, sheep, and railroad materials.
In 1883 Franklin County was created and Ainsworth became the county seat. However, when the Northern Pacific began to build a new line in the Yakima Valley, Ainsworth's population dwindled because the towns of Kennewick and Pasco were founded and the influx of people to the city of North Yakima. A few years later, the railroad moved all of its property to the site of the new county seat, Pasco, and the courthouse was later moved in 1887.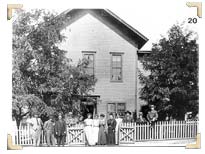 It had been Pasco's fate to prosper from Ainsworth's demise. Pasco was established as a Northern Pacific station in 1884 but it was named in 1881 by Virgil C. Brogue, the principal engineer of the Northern Pacific Cascade construction branch, probably in jest after his most recent job at Cerro de Pasco in the brisk cool mountain air of the Andes in Peru.
Early homesteaders in the area were W.H. Steffins, Dewitt Owen, Frank Shunemann, Henry Gantenbein, Jr., Rudolph Gantenbein, D.D. Sylvester and W.B. Mitzel. Captain W.P. Gray and Denver speculator Louis C. Frey later formed the Pasco Land Company to attract further settlers who eventually populated the small but dynamic community of Pasco. Platted in 1886, Pasco was incorporated in 1891.
During its early years, Pasco's most ambitious "claim to fame" was its challenge to Olympia (along with Centralia, Yakima, Ellensburg, and assorted other towns) to become the state capital in 1889. Despite being soundly ridiculed by those oblivious to its inherent charms, Pasco found itself awash in civic pride. Captain W.P. Gray was Pasco's main booster, not just for the anticipated increase in value of his substantial property claims should Pasco in fact become the capital.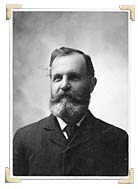 With the editorial assistance of I.I. Muncie, publisher of the , Pasco's praises were sung. Rallying under the banner of "Keep Your Eye on Pasco" and promoting its ideal climate and superior location (three mighty rivers and a virtual octopus of railroad tracks), Pasco all but guaranteed its continued prosperity and was therefore the prime site for the state capital.

Consequently, Pasco citizens enthusiastically pledged $40,000 and 300 acres. But it was not to be. Rebounding in the political safety net of incumbency, Olympia, though forced into a run-off election with Yakima and Ellensburg, received enough votes to become the capital for the new state of Washington.

Of the 50,000 plus votes cast, Pasco received 130, a more-than-respectable turnout when one considers the population of less than 500 inhabitants. Putting a positive spin on the rather lack-luster outcome, Pasco emphasized the state-wide publicity it had received, and then quietly rode back into the sunset, perhaps unaware that it would have higher aspirations to fulfill in future times.

Kahlotus—Though not platted until 1902, Kahlotus was located seven miles north of the Snake River and attracted early settlers such as the Harders and Moritz brothers, the Ebeson brothers, the Timmermanns, Parkinsons, and Hutchinson's in the early 1880s. In 1883 the Northern Pacific Railroad (who recruited many homesteaders to the area) arrived in the area. With the influx of new people, by 1886 the first Post Office was established, and in 1887 the first school in Franklin County was built.

By 1906 when the Spokane, Portland, and Seattle Railroad was built, Kahlotus was the largest wheat shipping point in Franklin County and a thriving town with a hotel, bank, livery stable, saloon, newspaper, hardware furniture store, and grocery and general merchandise store. Unfortunately by 1900 the railroad bypassed Kahlotus and today this once thriving town remains a small but productive farming community, home to approximately 500 people.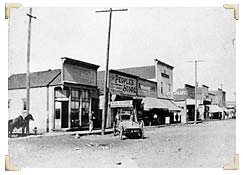 White Bluffs—The small settlement of White Bluffs on the eastern side of the Columbia River is considered by many to be the first town in Franklin County. Long a crossroads for migratory Indian tribes, it was the site of a temporary military depot established by the army in the 1850s. White Bluffs also attracted gold miners on their way to fame and fortune up north and served as a shipping center for freight coming up the Columbia until 1868 and. In 1865 the Hudson's Bay Company commissioned A. R. Booth as the agent of a way station and trading hut at White Bluffs, joining many houses, a store, a blacksmith shop and a saloon. A ferry, which ran until 1943, was originally operated by Thomas Howe.

The 1870s brought their share of Indian problems to the White Bluffs' area, causing another temporary stationing of military personnel. By the 1890s many of the homesteaders had moved to the west side of the river and in 1907 the town of White Bluffs was re-established on the western side of the Columbia River (and in Benton County). In 1943 under a veil of secrecy, White Bluffs was quietly confiscated and quickly razed by the U.S. government and incorporated into the Hanford Reservation's Manhattan Project.

Territorial Towns

Ainsworth — settled in 1879 and named after J.C. Ainsworth

Kahlotus — settled in early 1880s by several families, was the site of the first school in Franklin county in 1887

Pasco — established in 1884, platted in 1886, and named by Virgil G. Brogue after Cerro de Pasco in Peru.

White Bluffs — considered the first town in Franklin County and established as a military depot in 1850s.

Ainsworth

The disappearance of the town of Ainsworth was further hastened in 1898, when the county commissioners, on petition of the Northern Pacific Railway Company, "vacated, set aside and annulled," the greater portion of the town plat of one-time county seat of Franklin County. This was a quick demise for what had been a few years before a busy town.

From 1901-1910, the Seattle, Portland, and Spokane Railroad, like the Northern Pacific before it, utilized Ainsworth as a depot for construction materials as headquarters for directing the establishment of a railroad along the Snake and Columbia Rivers. After 1910, what little remained of the once bustling railroad town fell into ruin and today betrays little evidence of its former existence.