Sumner Presbyterian Church
A Brief History of the Sumner Presbyterian Church
This information is provided courtesy of Joe Hibbard, Pastor of the Sumner Presbyterian Church.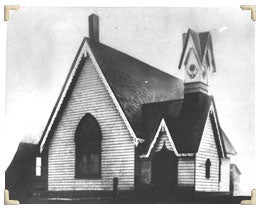 Prior to 1847 there were no regular Presbyterian Church services on the Puyallup River. Presbyterians took their wagons or rode horses to Steilacoom. Eventually a group from that church began meeting in the Puyallup Valley at Franklin (later changed to Sumner). The Reverend George W. Sloan preached in the valley occasionally. In the summer of 1874, the Reverend George F. Whitworth began preaching once a month in the Liberty Schoolhouse, which stood at the corner of Wood and Main Streets. He also preached in private homes and organized a Sunday school.
The Presbyterian Church of Puyallup was organized in 1877 but met in Sumner. Later, those parishioners living south of the river withdrew and organized the Presbyterian Church of Puyallup. This congregation was not fully identified with Sumner until December 31, 1883, when it was incorporated The First Presbyterian Church of Sumner, Washington Territory.
In 1877 the membership numbered seven: Laura F. Mead, Susannah Thompson, Eliza Jane Meeker, Mary McMillan, Caddie Meeker and Elijah C. Mead. A new church building was started that year on West Main and was dedicated April 14, 1878. Reverend Whitworth secured funds from San Francisco, Portland and the East Coast. The church was built on a plot of ground given by John Kincaid two years before Sumner was surveyed. It was in this church building that Reverend Whitworth started Whitworth College. The building was used until 1911, when another facility was completed on the corner of Ryan and Academy Streets.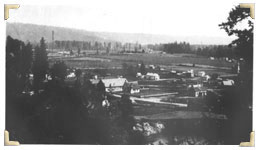 The town of Sumner grew and the building was remodeled in 1950 to provide room for the Sunday school classes. In 1972 the congregation moved to its present location at the corner of Washington and Valley Avenue. The building was built in four stages. Snelling Hall served as the sanctuary and the fellowship hall during the first six years. The sanctuary was built in 1978, the Willard Youth Building was added in 1989 and a new office, library and classroom addition was dedicated in early 2000.
Sumner Presbyterian Church has continued to serve the changing needs of the community. Sumner has changed from a rural farming area to a suburb of both Tacoma and Seattle and the church found itself changing and growing with the area. Evangelism and missions continue to be a major focus as the Session seeks to lead the church forward.