Steilacoom Area
A History of the Steilacoom area
Territorial Towns and Settlements
Lafayette Balch's brother
Nathaniel Orr
Steilacoom's firsts
This information is provided courtesy of Joan Curtis from the Steilacoom Historical Museum Association.
A History of the Steilacoom area
Steilacoom's history is as long as that of the Washington Territory. The town's name is derived from an Indian word meaning "little pink flower." The pink flowers covered the hillsides of the area and are still found flowering today. In the early 1850's descendents of the Indians in the area around Chamber's Creek were known as "Steilakumahmish."
The oldest incorporated town in Washington was founded in January of 1851 by Lafayette Balch, a Maine sea captain. He called his new town Port Steilacoom, after the Native Americans in the area and created the beginnings of Steilacoom's economy. Balch started a brisk coastal trade of shipping lumber to San Francisco and selling goods to the settlers arriving to the area.

Shortly after Balch founded his town, John Chapman, a lawyer from Indiana, founded another town, Steilacoom City, adjacent to Balch's. Chapman was a lawyer from Indiana, and his eloquent oratory on July 4, 1851 in Olympia set in motion the agitation to form a new government for the Oregon territory north of the Columbia River. With their close proximity, the towns developed an intense rivalry which ended only when the Washington Territorial Legislature incorporated the two towns into one in March 1854.

Besides being the first incorporated city, Steilacoom also has many other firsts from the territorial period.
Steilacoom boasts several territorial corporations. One is the Oberlin Congregational Church, incorporated on April 27, 1883 with eight members.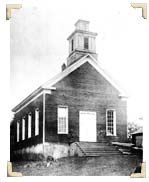 Steilacoom has continued to be proud of its rich heritage. Recognizing the need to preserve and protect the structures of the past, an historic district was established in 1974 and placed on the National Register of Historic Places in 1975. The pride of its past is evident today as its residents and town officials work to conserve the historic structures and maintain the uniqueness of this small town.