History of Old Walla Walla County, Volume 2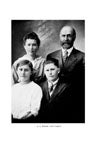 Title

Lyman's History of Old Walla Walla County, Embracing Walla Walla, Columbia, Garfield and Asotin Counties - Volume 2

Author:

Lyman, William Denison, 1852-1920

Contents:

The 2-volume regional history includes history of Southeast Washington's territorial years as well as a wealth of local detail, biographical sketches and photographs.

Publication Information:
[Chicago] : S. J. Clarke Pub. Co., 1918
State Library Catalog Information
Notes
View
*DJVU | PDF

*Plugin Required

Table of Contents
---
---
Table of Contents
Note: DJVU files are much smaller in size and will download and display faster than the PDF versions.
Title Page - DJVU | PDF
Biographical Sketches - DJVU | PDF
Biographical Index - DJVU | PDF

---
Plug-in Required
DJVU Plugin or Adobe Acrobat Reader (PDF) Required
To view the publication images you will need either Lizardtech's DJVU plugin or Adobe's Acrobat Reader, both which are free. Click the icons below for downloading instructions.