The fourteenth session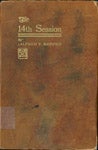 Title

The fourteenth session : a brief history of the men who represented the million and a half people of the state of Washington in the legislature of 1915

Author:

Renfro, Alfred T.

Contents:

Contains a brief biographical history of each member of the 1915 Legislature as well as the Governor, Lieutenant Governor, State Auditor, State Treasurer, Attorney General, and the Commissioner of Public Lands.

Publication Information:
Pub Info [Seattle?, Wash.] : House of Sherman, [1915]
State Library Catalog Information
Notes

Edition limited to 130 copies. The State Library collection contains copy number 14 and copy number 99.

View
*DJVU | PDF

*Plugin Required

Table of Contents
PDF Notice
- If you experience difficulty viewing the PDF versions of the publication please make sure your PDF viewer and or browser is up-to-date. Internet Explorer users may wish to upgrade to the latest version of the browser or use an alternative, such as
Google Chrome
or
Firefox
.
---
---
Table of Contents
Note: DJVU files are much smaller in size and will download and display faster than the PDF versions.
Title Page - DJVU | PDF
Introduction - DJVU | PDF
State Officials - DJVU | PDF
The Senate - DJVU | PDF
The House - DJVU | PDF

---
Plugin Required
To view the images you will need either a DJVU plugin or Adobe's Acrobat Reader, both which are free. Click the icons below for downloading instructions.