A Brief History of the Centenary/Knox Presbyterian Church
Information is provided by excerpts from Reverend Howard Stratton, Preacher, Missionary, and Founder of Centenary Church/Knox Presbyterian Church, February 3, 1888.
The Founder and Founding of Centenary: Early History of Reverend Howard Stratton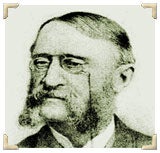 Howard Stratton was ordained to the Presbyterian ministry in 1866 in Ohio and began preaching in Kansas.   In 1871 he left for Oregon and upon his arrival he ministered to the Presbyterian and Congregational churches in Albany, Oregon.   Beginning in 1877, while serving as the Columbia syndical missionary, Stratton organized the first Presbyterian churches east of the Cascades in Weston, Oregon and Walla Walla, Washington Territory.   He established the first Presbyterian Church at Boise City, Idaho Territory during the winter of 1878-1879.   In 1879 Reverend Stratton started a small Sunday school in Spokane Falls, Washington Territory; this was the forerunner of the First Presbyterian Church.   Later, in 1888, he helped to organize the Centenary Presbyterian Church in Spokane Falls. Reverend Stratton wrote faithfully in his diaries during 1853, 1859, 1868, 1877, and 1888, which are available at the Cheney Cowles museum archives.
1887-1888 Diaries: December 31, 1887 Entry in the diary of Rev. W. H. Stratton
"Awake a long time in the night. Head confused and dizzy.   If I slip away with out a will, I wish first that a deed be made out for a lot, 100 ft by 120ft at the South Wall corner of this block (20) to trustees chosen for a Presbyterian Church on the north side of the Spokane River to be Known as the Centenary Presbyterian Church of Spokane Falls W.T.    I wish that the rest of block (20) be dedicated and conveyed by my children to trustees chosen by Rev. T. J. Watson and of which board of trustees my son H.C. Stratton shall be one as a site for a ladies female seminary on the Mt. Holyoke flair as my gift to the institution."
Thus began the final work of Reverend Stratton.   His vision was a church to be built on property he owned north of the Spokane River. On February 3, 1888, Reverend Stratton recorded this in his pocket diary:
"Friday February 3, 1888 'Sketched Jesus Only' O My Master; what will you do for us today?   Slept poorly. Up at 6. Not Well. Foggy Morning. Thawing.   A busy day. Centenary Presbyterian Church organized at Mr. Glispins (Mr. James Glispins was sheriff of Spokane Falls) at 7 ~ P.M. this eve. Dr. J. D. McLean, Mrs. Louise McLean, Mr. Geo. F. Schorr, Mrs. Carrie B. Schorr, Mr. Frank Gillette, Mrs. Louisa Gillette, Mrs. Eva Mickel, Mrs. H.C. Monfort, Mr. L. D. Westfall, Mr. Joseph and Mrs. Nancy Tarbert.   Dr. McLean (3 yrs), Frank Gillette (2yr), and L.D. Westfall (1yr) elected Elders and Geo. F. Schorr (1 yr), James Tarbert (2yr), and Judge J. D. Mickel (3 yrs) trustees. Church Subscription (donations) started at $165 + $325 = $490.   Also collection for foreign mission fund meeting.   During the day called on the Schorr's, Gillette's, Kiser's, Miss Greenwood, Kinnard's also on Anna (Rev. Stratton's daughter).   Leonard about Lots and saw all about $25 subscription to the church.   Dinner at the Schorr's."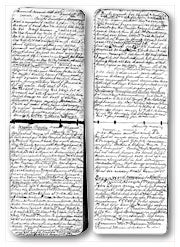 The new members of Centenary Church provided subscriptions (donations) to the new church. Reverend Stratton recorded detailed information in his small, 3 inch by 5 inch pocket diary. Entries were made with ink pen.   The February entry occupied one half of one page and tells the whole story of the founding of Centenary.
The diary page also contains the account of Reverend Stratton's work on the new Centenary Church.   He acted as contractor, builder and also donated the church property.   
The first Centenary members including Reverend Stratton and Reverend Dennison pledged five hundred and thirty five dollars in donations. Reverend H. D. Dennison, from Ellensburg Washington Territory, was the first pastor of Centenary.   Notes contained in Stratton's diary indicate that Dennison had pledged $100 early in the fund raising.
Reverend Stratton: Major Leader in Building Centenary Church
The diary of Reverend H. W. Stratton leaves little doubt that he was very much involved with the funding and building of Centenary Presbyterian Church.   Stratton seems to have had a good relationship with Reverend T. G. Watson, pastor of First Presbyterian Church.   The careful reader of these few pages of diary will soon see that Stratton was a focused individual with a mission to build the church as well as an active ministry.   Within the four diary pages contained in Figure 2, Stratton made several entries regarding teaching Sunday school, leading prayer service at the YMCA, leading singing at First Presbyterian and attending Sunday and Evening church services.   He also refers to preparing a Sunday school lesson, scripture reading and other readings in his time of reading and preparation at night.  
The following is an account of the founding and building of Centenary Church from a book of early Spokane History entitled "History of Spokane County Washington" by Reverend Jonathan Edwards, 1900 pages 176 and 177 published in Walla Walla
"Centenary Presbyterian Church was organized February 3, 1888, with twelve members.   Rev. T. G. Watson, pastor of the First (Presbyterian) church and Rev. H. W. Stratton were actively interest in gathering the new church.   The purpose and spirit of the organization is well set forth in the words of the committee appointed to look over the field previous to organization, viz 'It was found that nearly thirty persons, either members of Presbyterian churches or connected with Presbyterian families, were living on the north side of the river and that a goodly number of these desired to unite in organizing a church which should, with the Lord's blessing, enter heartily into mission work upon the field.'   The work of erecting a building was a once undertaken on lots donated by Rev. H. W. Stratton, who also gave liberally of time and money ($1800) for the completion of the building and sustaining the work of the church.   Substantial aid was at this time given by the First Church.   The basement of the building was first used October 7, 1888, and the audience room was completed and dedicated in September 1890.   After the organization of the church there was a considerable period of uncertainty as to the settlement of a pastor.   Record is found of the following ministers who filled the pulpit as stated supply; Rev. H. G. Dennison, 1888-1889, Rev. D. S. Banks, June, 1889 to October 1889, Rev. P. S. Jamieson, November 1889 to June 1990.   Rev. T. J. Lamont, DD, June, 1890 to November, 1890; Rev. S. T. Davis, February, 1891 to September, 1891, Rev. A. E. Street, September, 1891, to January, 1892.   Rev. T. C. Armstrong, D. D., was installed pastor early in 1892 and remained over four years.   Rev. W. L. VanNuys was installed in April 1897 and resigned in April 1900 to go to La Grande, Oregon.
The Church has at present (1900) a membership of over one hundred, and seems to be entering a wider sphere of activity and influence than it has heretofore known."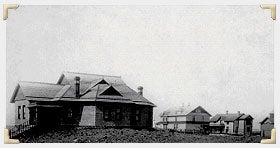 The newly built Centenary Presbyterian Church, according to the 1900 historical account, this photographs must have been taken in 1889 or 1890 since the congregation first met in the basement of the church and later the sanctuary was added.   The following account was listed in the 1938 "fiftieth anniversary" program written by Dr. Charles Koehler pastor. "The pastor-elect and his family (Rev. H. G. Dennison) arrived the latter part of August (1888).   The Church building was not ready but he began his work preaching occasionally and doing pastoral visitation.   On the 7th of October, 1888, the first service was held in the unfinished basement of the church. "From this time on services were held every Sabbath through the basement was not finished until the middle of January 1889".  
Reverend Stratton: Missionary Pioneer in Spokane Falls, WT.
Reverend Stratton was an important part of Spokane Falls and Spokane's early development.   He had an important role in the development of the Church and Sunday Schools in the early days of this city. Reverend Stratton was commissioned by the Presbytery in Oregon as a missionary to form churches in Eastern Oregon and Eastern Washington Territory.   His daughter Anna was married to J. J. Browne an attorney and early pioneer in Spokane falls. The following excerpt from his autobiography is written about a trip he had to Spokane Falls September 3, 1878 to visit his daughter and son-in-law J. J. Browne.  
"Mr. Browne had a law office in the front room of the story-and-a-half store building at the corner of Front and Howard, diagonally across from where the city hall now stands.   Back of this office was a small hall, the only place for a public gathering in the place, where I preached Sunday, September 6, 1878, to about forty people, probably nearly half of them Indians, who crouched on the floor by the door.   We borrowed an organ somewhere and Anna played.   The Cowleys were there, the Post family, Mrs. Cannon, Mrs. Warner, and most of the people.   This was probably one of the first religious services ever held for white people in Spokane.   Mr. Cowley preached to the Indians in a church built for them near his present residence.   Mr. Cowley then and for several years afterward, held a commission from our Board of Foreign Missions, and he was holding meetings for them at different places.   After one morning service, steps were taken to organize the first Sabbath school, which was consummated the succeeding Sunday with A. E. Ellis as the superintendent.   Mr. Ellis was still superintendent of the Union Sunday school when I returned in 1881 to make Spokane my home...   Before Sunday, I had visited the Williamsons on Moran Prairie, people from Albany, Congregationalists, Cowleys, and others, and had a list of twelve or fifteen people ready to go into a Presbyterian Church as soon as a man would be sent to organize and take charge of the work.   When I returned, (to Portland Oregon) and reported the matter to Dr. Lindsley the prospects for growth seemed to him too remote to warrant immediate action, and so the matter was dropped….. I was very favorably impressed with Spokane as the leading point for a vast region and would have tried to get hold of some property if I had not been obliged to return to Portland and prepare for the fall meeting of presbytery."